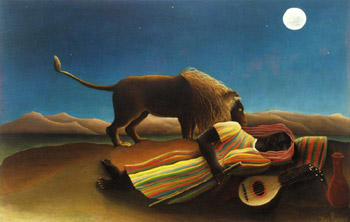 | | |
| --- | --- |
| Artist: | Henri Rousseau |
| Created: | 1897 |
| Dimensions (cm): | 200.7 x 129.5 |
| Format: | Oil on canvas |
| Location: | The Museum of Modern Art, New York, USA |
The Sleeping Gypsy
'The Sleeping Gypsy', or in its original French name 'La Bohémienne Endormie', was painted by famous artist Henri Rousseau in 1897. This unique oil painting displays the image of a woman asleep on the desert sand with a mandolin at her side and a walking stick clutched in her hand. The lion standing behind her appears curious, not wanting to wake her but entranced by her presence. The traveller's body position implies weariness, but the expression on her face is one of content - a tired soul taking solace in the serenity of the land. The contours within 'The Sleeping Gypsy' are striking with illusory colors that render the scene dream-like. The bluish moon illuminates the painting, and brings about a sense of peace and harmony between the two subjects - animal and human.
In a letter wherein Henri Rousseau described his fantastical creation, the artist stated, "A wandering Negress, a mandolin player, lies with her jar beside her (a vase with drinking water), overcome by fatigue in a deep sleep. A lion chances to pass by, picks up her scent yet does not devour her. There is a moonlight effect, very poetic. The scene is set in a completely arid desert. The gypsy is dressed in oriental costume." Sadly, it was not until after his death that Rousseau received high praise from the public for his many artworks.
Analysis and Review
"The Sleeping Gypsy is formally exacting — its contours precise, its color crystalline, its lines, surfaces, and accents carefully rhymed. Rousseau plays delicately with light on the lion's body. Rousseau was a self-taught painter, whose work seemed entirely unsophisticated to most of its early viewers. Much in his art, however, found modernist echoes: the flattened shapes and perspectives, the freedom of color and style, the subordination of realistic description to imagination and invention." – Museum of Modern Art
'The Sleeping Gypsy' by Henri Rousseau is currently located at The Museum of Modern Art in New York, USA.
Home | Art Prints | Art Movements | Famous Artists | Articles