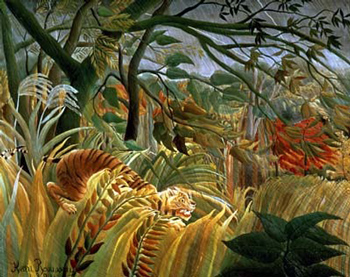 | | |
| --- | --- |
| Artist: | Henri Rousseau |
| Created: | 1891 |
| Dimensions (cm): | 162.0 x 130.0 |
| Format: | Oil on canvas |
| Location: | The National Gallery, London, England |
Tiger in a Tropical Storm
A self-taught artist, Henri Rousseau created his popular oil on canvas 'Tiger in a Tropical Storm (Surprised!)' in 1891. While Rousseau was unable to attend an art college, he worked as a custom's officer until he began to exhibit his work at the Salon des Independents in Paris. The critics were not very kind, often referring to him as "le douanier" in reference to his job, pointing out that he was not formally trained as an artist. Nevertheless, Henri Rousseau showed his piece 'Tiger in a Tropical Storm' under the title 'Surpris!' in an exhibition that was open to all avant-garde artists at the Salon des Independents. The painting received mixed reviews.
Rousseau had a particular technique for creating his collection of jungle paintings. He built them in layers, using numerous shades of green to depict the fertile nature of the jungle. As well, he developed a unique method for illustrating rain storms by trailing strands of silver paint diagonally across the canvas; this effect was inspired by the paintings of William-Adolphe Bouguereau.
'Tiger in a Tropical Storm' shows a tiger illuminated by a flash of lightening, ready to attack its prey. However, the object of the wild animal's attention is beyond the edge of the canvas, leaving viewers to imagine the end result. The artist once said that the tiger was actually about to pounce on a group of explorers.
Reviews
Many critics were harsh on Henri Rousseau and his art work, but Swiss painter Félix Vallotton thought otherwise, saying, "His tiger surprising its prey ought not to be missed; it's the alpha and omega of painting." And, a New York Times art critic went on to say that Rousseau's collection of work had "an extensive influence…on several generations of vanguard artists, starting with Picasso…". In fact, Picasso bought several of Rousseau's pieces in 1908 and held a banquet in his honour. While critics may not have been Rousseau's biggest supporters, Picasso, along with fellow artists Matisse and Toulouse-Lautrec, were great admirers of his work.
'Tiger in a Tropical Storm' is currently located at The National Gallery, in London, England.

Home | Art Prints | Art Movements | Famous Artists | Articles