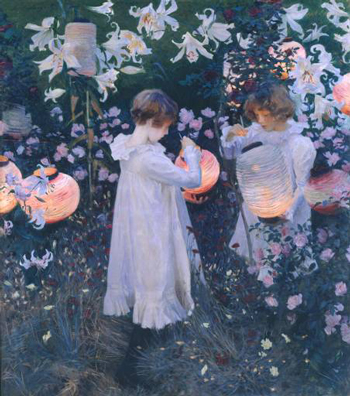 | | |
| --- | --- |
| Artist: | John Singer Sargent |
| Created: | 1885-6 |
| Dimensions (cm): | 153.7 x 174.0 |
| Format: | Oil on canvas |
| Location: | The Tate Gallery, London, England |
Carnation, Lily, Lily, Rose
John Singer Sargent was a painter with a keen eye for detail and a very large imagination. He frequently painted children in both indoor settings as in, The Daughters of Edward D. Bolt, and outdoor settings. However, initially when he painted children in gardens he did it in a studio and not actually outside in a natural setting. The year that he began painting Carnation, Lily, Lily, Rose he spent the summer with the Vickers family and did numerous studies of the various members of the family in the garden. He did in particular a painting of the two Vickers children in the garden which may have sown the seeds for Carnation, Lily, Lily, Rose.

He described this painting which he worked on for two years as a "fearful, difficult subject. Impossible brilliant colors of flowers, and lamps and brightest green background. Paints are not bright enough"

Everything about this painting was done so as to create a wholly decorative and pleasing picture. The flowers, the lanterns and the children were arranged specifically for effect. There is nothing natural about the setting. The use of prismatic color in an outdoor scene creates an unnatural and artificial quality to the painting. This is what he was trying and succeeded in achieving. This painting was very well received.

The lily is the flower of purity and is here associated with the innocence of childhood. The scene that the painter has created is one of two children completely absorbed in their lanterns, surrounded by flowers in an almost magical if completely contrived setting.
Home | Art Prints | Art Movements | Famous Artists | Articles