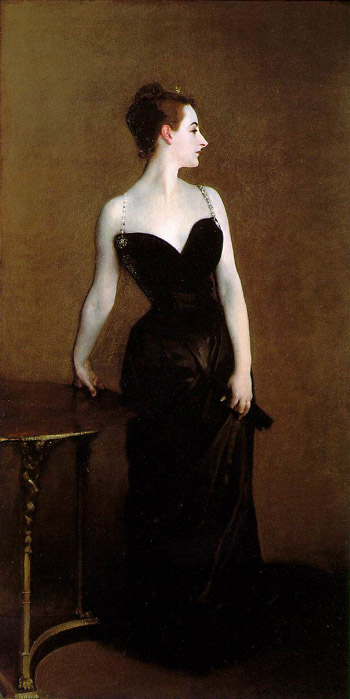 | | |
| --- | --- |
| Artist: | John Singer Sargent |
| Created: | 1883 |
| Dimensions (cm): | 109.9 x 208.6 |
| Format: | Oil on canvas |
| Location: | Metropolitan Museum of Art, New York, USA |
Madame Pierre Gautreau
John Singer Sargent painted 'Madame Pierre Gautreau' in 1883. The portrait was later dubbed 'Madame X' by Sargent himself, to add a more mysterious and dramatic effect. His subject, Madame Gautreau, is standing with her body facing forward while her head is sharply turned in profile to the right. Sargent instructed her into many poses before adopting this one, all of which he carefully scrutinized in an effort to master the dramatic intent he had in mind for the portrait. The side view that he finally selected reflects assertiveness, and yet holds a hint of vulnerability that the artist was able to achieve by revealing the delicate contours of her neck and face. The darkness of the background, the blackness of the dress, and the soft browns of the wooden desk cause a striking contrast with 'Madame Pierre Gautreau's' porcelain skin. The bejewelled straps on her bare shoulders give the portrait a hint of eroticism, while the desk's sharp angles emphasize her elegant curves and femininity.
The Subject
Virginie Amélie Avegno Gautreau was well-known in Paris for her beauty, and for her marriage to Parisian banker Pierre Gautreau. After meeting her in 1881, John Singer Sargent yearned to paint her portrait. In 1883, the couple agreed and Sargent began the painting at the Gautreau's summer home in Brittany. It was completed and exhibited at the Paris Salon in 1884. Reviews cried scandal; critics, as well as the general public, felt that the painting was too revealing, that it held sexual innuendoes. Nonetheless, Sargent felt the painting was one of the best works that he ever created.
Analysis and Review
Arthur Danto once wrote with regards to this masterful painting: "And in his great portrait Madame X, he (the artist) came close to achieving some of the erotic profundity of the Venetian interiors and making a fine fee. This time, of course, he and the subject were of the same world, and there is a familiarity, an intimacy, an almost conversational ease, implied in the relationship between the master painter and the great beauty he depicts." – Encounters & Reflections: Art in the Historical Present
'Madame Pierre Gautreau' by John Singer Sargent is currently located at the Metropolitan Museum of Art, New York, USA.
Home | Art Prints | Art Movements | Famous Artists | Articles