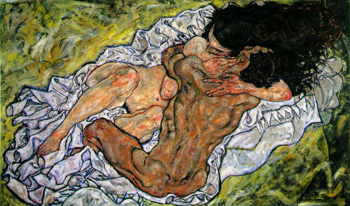 | | |
| --- | --- |
| Artist: | Egon Schiele |
| Created: | 1917 |
| Dimensions (cm): | 170.2 x 100.0 |
| Format: | Oil on canvas |
| Location: | Osterreichische Galerie, Vienna |
Embrace (Lovers II)
When Egon Schiele painted Embrace (Lovers II) in 1917, his art had matured. While always preoccupied with sexuality, Schiele had broken with the writhing, emaciated nudes of his earlier work. The man and woman in Embrace (Lovers II) stand in stark contrast to the woebegone lovers found in such pieces as Seated Couple and Death and the Maiden. Here, Schiele opts to depict not anxiety but affection. The titular embrace is an intimate one, a perfect union of Schiele's newfound tenderness and signature sensuality.
Painted just a year before his death at the age of twenty-eight, Embrace (Lovers II) shows Schiele at his most confident as an artist. The lovers in this piece are among the most expertly rendered three-dimensional figures Schiele ever created. Yet while certainly realistic, the man and woman also exude an expressionistic energy. The male figure envelopes the female figure in his arms as she strokes his shoulder and caresses the left side of his face. The way Schiele layers the brushstrokes on their flesh conveys the physicality of this moment brilliantly. Further accentuating the lovers' passion is the vibrant background, a textured mass of yellows, blacks and browns. A true sensualist, Schiele wants his viewer to meditate on his subjects, hardly allowing even a strand of his female figure's hair to fall off the canvas. This painterly generosity makes Embrace (Lovers II) one of the most fully realized works in Schiele's entire oeuvre.
Analysis and Reviews
Once a student of Gustav Klimt, Egon Schiele would become a major modern artist of the early twentieth century. In his review of a 1998 exhibition of Schiele's work, Pulitzer Prize-winning author John Updike commented, "[his] nudes… are among the great drawings of the century… [they] have the guileless animation that occurs when self-absorption lifts and observation begins."
Embrace (Lovers II) is currently located at the Osterreichische Galerie in Vienna.

Home | Art Prints | Art Movements | Famous Artists | Articles