The Arrival of Goalie Mask Art
The first ever-recorded goalie mask to be worn in the NHL was sported by Montreal Canadian goaltender Jacques Plante on November 1st, 1959. The mask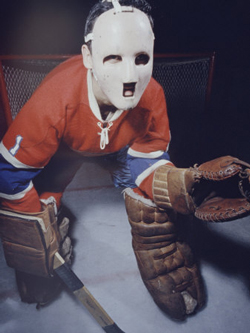 was plain and simple as Plante's sole purpose for wearing it was to protect himself from injury. The first net-minder to decorate his mask was Gerry Cheevers, who had stitch marks painted on it for every time he was struck in the face with a puck or a stick. That was in 1970, and perhaps his intention was to send an important message.
The Artists behind the Goalie Mask
As time went on, goalies became more creative with their headgear. The very first artistic mask made its debut in 1974 when Pittsburgh Penguin goalie Jim Rutherford got in between the pipes wearing a powder blue mask. From that game on, goalie mask art took off to new levels, and designs are now an interesting and significant feature of every goaltender's gear. However, today it is not the goalies that create the designs for their masks, but a group of very talented artists. They are the ones who can skillfully transform a goaltender's fantasy into reality.
Artist Greg Harrison paved the way for future goalie mask artists when he began designing headgear for goaltenders in the NHL. In fact, by the late 1970s, nearly 80% of NHL goaltenders wore Harrison designs. Today, much more detail goes into goalie mask art. Modern artists go to great lengths to capture the specific and unique features requested by the goaltender. There are several artists involved in goalie mask art, but two of the most popular ones that the professional hockey players go to are Frank Cirpa and Todd Miska. They have created the designs on the masks of legendary goaltenders such as Ed Belfour, Manny Fernandez, and Grant Fuhr.
How is a Goalie Mask Born?
Although various artists work on goalie masks, most of them create their designs in the same way. Typically, a goalie will approach the artist to discuss the idea that he has for his mask. He usually gets the artist's opinion, and perhaps some suggestions. In general, masks feature certain elements regarding the goaltender's team, such as team colors, logos, and the team's home base. Once the whole concept is in place, the artist will begin to work on the goalie's mask.
Goalie mask artists start by stripping away any paint on the mask, and cleaning its surface thoroughly. A base coat of white primer is then applied. The artist will sketch the agreed-upon art design across the entire mask, and then the airbrushing follows. This step requires skill, precision, and a vast amount of patience. The mask then needs to be clear-coated and baked to ensure that the paint will not chip when the flying pucks hit it. The helmet is wet-sanded and polished to a mirror-like finish that is durable and attractive. Generally speaking, the whole process will take 20 to 30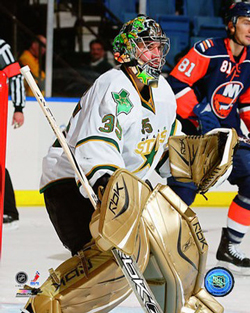 hours, but can entail up to 60 hours if it involves an elaborate design. The cost of goalie mask art can range anywhere between $800 and $2,000.

Hurray for Individuality

The theme that a goaltender chooses for a goalie mask most often represents his character and personal taste. Of course, designs are somewhat limited - not just anything can be put on the mask. There are particular rules to adhere to. The goalies are not allowed to advertise products or services on their masks, nor can they display anything that could be considered politically incorrect, in poor taste, or offensive to the public. Goalie mask art is important to goaltenders today because they get to express themselves not only as an athlete, but also as an individual. So, a special thank you goes to the talented artists out there who provide us with unique and entertaining goalie masks.

"I will get a painted mask, because the design on your mask is like part of your soul." Ilya Bryzgalov, Phoenix Coyotes

Click here to view the most popular NHL goalie masks!
---
Donovan Gauvreau
Art Historian, Donovan Gauvreau lectures about art therapy with a focus on creativity development. He believes we can learn from the great masters in art to communicate ideas and feelings through painting. He provides content for www.AaronArtPrints.org to educate and inspire people to take a glimpse into an artist's life to better understand the meaning behind their work.
Home | Art Prints | Art Movements | Famous Artists | Articles