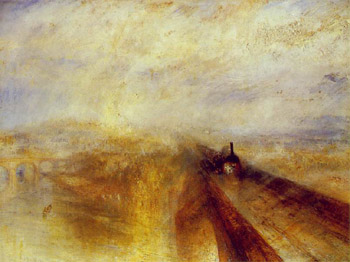 | | |
| --- | --- |
| Artist: | Joseph Mallord William Turner |
| Created: | 1844 |
| Dimensions (cm): | 121.9 x 90.8 |
| Format: | Oil on canvas |
| Location: | National Gallery, London, England |
Rain, Steam and Speed
In 1844, artist Joseph Mallord William Turner painted 'Rain, Steam and Speed', an oil painting that offers a peak at the beauty of the mid 1800's rough landscape. The particular brushstrokes used for the rain create a veil over the speeding train as it travels to its destination. The translucency of the greys and whites of the clouds emphasizes the intensity of the rain, while fading out the distant bridge and the landscape left behind. The artist's blending of rustic colors adds warmth to the painting. Researchers have determined that the scene reproduced in 'Rain, Steam and Speed' is the Maidenhead Railway Bridge that crosses the River Thames at Taplow and Maidenhead. The panorama offers an eastern view towards London, England.
Joseph Mallord William Turner became known as the "Painter of Light" due to his fascination of brilliant, bold color schemes in many of his landscapes, as well as his seascapes. Known as perhaps the most beloved of English romantic painters, it comes as no surprise that 'Rain, Steam and Speed was exhibited at the Royal Academy in 1844, as were many of his other works. Turner bequeathed a majority of his art works to his country, nearly all of which are on display at the Tate Britain.
Analysis and Review
With regards to Turner's unique style and use of colors, Simon Wilson stated in the "Tate Gallery: An Illustrated Companion": "Looking at Turner's pictures of the yellow dawn or the red of sunset, one is aware, perhaps for the first time in art, of the isolation of colour in itself. Even his sea-pieces contain flecks of bright un-modulated colour that enliven them at first sight with more monochromatic treatment. To extract from the continuous range of light the purity of yellow, blue or red, the hues that command and comprise the rest, required an uncompromising integrity of vision."
'Rain, Steam and Speed' by Joseph Mallord William Turner is currently located at the National Gallery, London, England.
Home | Art Prints | Art Movements | Famous Artists | Articles