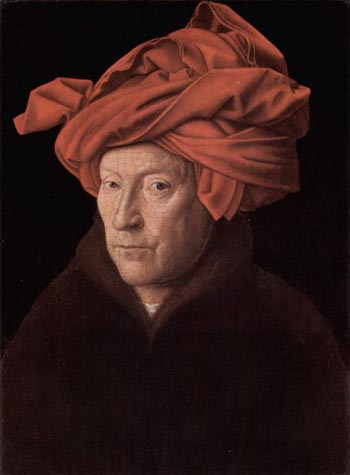 | | |
| --- | --- |
| Artist: | Jan Van Eyck |
| Created: | 1433 |
| Dimensions (cm): | 19.0 x 25.7 |
| Format: | Oil on oak |
| Location: | National Gallery, London, England |
The Portrait of a Man (Self Portrait?)
In 1433, Netherlander artist Jan Van Eyck painted this oil entitled The Portrait of a Man (Self Portrait?), or Portrait of a Man in a Turban, on an oak panel. Although there is no clear evidence pointing to the subject's identity, the man in the painting, who appears to be in his late 60s, has often been considered to be Jan Van Eyck himself.
An Interesting Discovery
The painting's original frame, which is still intact, bears this inscription: "JOHES DE EYCK ME FECIT ANO MCCCC.33. 21. OCTOBRIS." Translated into English, it reads: "Jan Van Eyck made me on October 21, 1433." Another inscription "AlC IXH XAN" was found at the bottom and at the top of the motto which means "I Do as I Can." This same adage has been discovered on some of Eyck's other artwork. It is always written in Greek letters – an oddity, since Eyck was from the Netherlands.
Analysis of Portrait of a Man in a Turban
Like all of Eyck's portraits, the painting suggests a sharp and meticulous study of the subject's facial lines, and demonstrates the artist's skill at conveying a particular mood. The figure strikes an aristocratic pose, and possesses an air of indifference. His eyes are cold and his mouth is unyielding.
The man depicted in Portrait of a Man in a Turban is not wearing a turban as the alternative title of this painting suggests. Ironically, he is wearing a chaperon with the ends that normally hang down tied up over the top. If indeed, the portrait is of Eyck, it would have been a sensible precaution to tie the chaperon's ends over his head whilst he was painting.
The vibrant crimson hue of the headdress stands in stark contrast against the man's tanned face. And, because the painting's background and the subject's cloak are entirely jet black, the man's face and chaperon appear to be in suspended animation. Was this effect the purposeful intention of the artist?
It is believed that Portrait of a Man in a Turban was first acquired by Thomas Howard, the 21st Earl of Arundel, while Jan Van Eyck was in exile during the years 1642 to 1644. The painting is currently located at the National Gallery in London, England, and has been there since 1851.
Home | Art Prints | Art Movements | Famous Artists | Articles