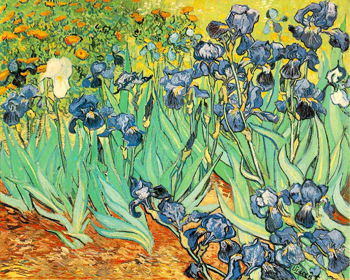 | | |
| --- | --- |
| Artist: | Vincent Van Gogh |
| Created: | 1889 |
| Dimensions (cm): | 93.0 x 71.0 |
| Format: | Oil on canvas |
| Location: | Getty Museum, Malibu, California, USA |
Van Gogh painted flowers with joy and honest admiration. All of his flower paintings exude passion and feeling, the result of the artist's attention to detail and close observation. This is certainly evident in his portrayal of the Irises.
Irises was painted while Van Gogh was living in an insane asylum. The artist claimed that painting helped him to feel sane, although the world as he knew it was crumbling around him. Irises was one of the first works Van Gogh painted in the asylum, and it lacks the morose tension which characterized the later works from this period. With Irises, we see a frank celebration of the beauty of nature.
There is a strong sense of freedom and movement in the painting, although the composition is highly ordered. There is almost a symmetry to the large regions of color: blue frames the painting from above and below, green dominates the middle and red is present in two corners. In characteristic Van Gogh fashion, each area is dominated by its own distinct shapes. Although the complementary reds and yellows in the margins set off the work, the greatest contrast in coloring occurs in the range of blues used. Blue is the dominant and darkest color in the work, its subtleties are explored and cultivated.
Van Gogh's Irises are carefully crafted and each shape is individualized. Unlike the Impressionists' soft spots of shapeless color, Van Gogh's flowers are precise and studied. Van Gogh approached a painting of flowers with the same focus and attention to detail he gave his portraits. It is perhaps this careful concern which appeals to the painting's countless admirers.
Home | Art Prints | Art Movements | Famous Artists | Articles