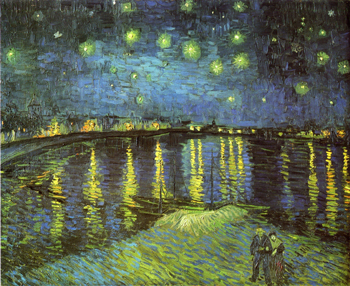 | | |
| --- | --- |
| Artist: | Vincent Van Gogh |
| Created: | 1888 |
| Dimensions (cm): | 92.0 x 72.5 |
| Format: | Oil on canvas |
| Location: | Musee d'Orsay, Paris, France |
Starry Night over the Rhone
Although Van Gogh painted for only ten years out of his relatively short life, he managed in such a brief span of time to create many extraordinary paintings. While he was in the small town of Arles where he painted Starry Night on the Rhone, he also painted close to a hundred other paintings many of which are now considered masterpieces and world –famous, such as Sunflowers.
Van Gogh remained in Arles for just fifteen months and worked almost constantly day and night driving himself relentlessly. He said he was enchanted by the light in Arles but was less enchanted by other aspects of the town, including the weather: 'I have been for several walks in the country hereabouts but it is quite impossible to do anything in this wind', he wrote in one letter to his brother. This was his first encounter with the mistral, the violent and sometimes terrible wind that blows down the valley of the Rhone. Despite this, he still attempted to paint out of doors and succeeded brilliantly as Starry Night over the Rhone demonstrates. It is perhaps even more of an accomplishment when one considers how Van Gogh would drive pegs into the ground and tie his easel to them so that he might paint, and even then he claims that the 'canvas was shaking all the time'.
By the time Van Gogh painted Starry Night over the Rhone, he had ceased to bother making preliminary sketches in charcoal on his canvases and instead worked directly in color. His desire when painting was to exaggerate the essential and purposely leave the obvious things vague'. For example, in Starry Night over the Rhone, the stars are exaggerated with 'halos' swirled around them. Such brushwork is so distinctive to Van Gogh it is like a signature.
Home | Art Prints | Art Movements | Famous Artists | Articles