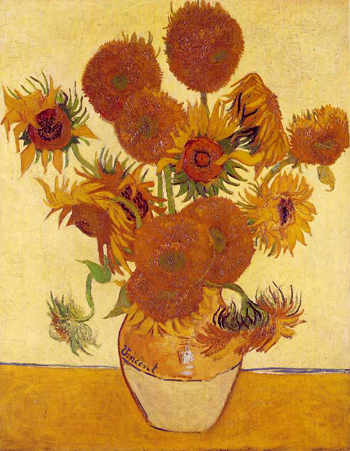 | | |
| --- | --- |
| Artist: | Vincent Van Gogh |
| Created: | 1888 |
| Dimensions (cm): | 73.0 x 93.0 |
| Format: | Oil on canvas |
| Location: | National Gallery, London, England |
Sunflowers
Sunflowers is arguably the work with which Vincent Van Gogh is most often identified. Created as part of a series meant to decorate the artist's own studio, the 1888 canvas now holds an iconic status not only in the art world but also in modern popular culture.

Van Gogh's first paintings of sunflowers were produced in Paris in 1886, but the series of which the Sunflowers masterpiece is a part was created in Arles during the summer of 1888. The painting reflects the popular aesthetics of the late 19th century, which promoted nature as a model of health and fulfilment.

The monochromatic work exploits the expressive potential of one colour, as it is composed mainly of numerous shades of yellow paint. The bold brushwork demonstrates the speed and intensity with which Van Gogh worked, but an overall stability is created through the near-symmetry of the composition. The three large forms at the bottom of the work are balanced by the three at the top, while the three smaller blooms on the left and mirrored by those on the right. The two downward facing blooms also echo each other. The careful balance of the work can also be seen in the individual sunflowers, whose thick centres are countered by the thinner paint in the outer areas.

Van Gogh's Sunflowers demonstrate the artist's desire to create art to be enjoyed, but the outward simplicity of the work is underscored by a subtle inner depth. The painting's celebration of natural beauty incorporates an awareness that this beauty is ultimately transient. The impermanence of beauty is a theme that recurs in much of Van Gogh's work. This theme in many ways mirrors Van Gogh's own life which was dedicated to creating beauty but ended tragically from suicide at the age of thirty-seven.
Home | Art Prints | Art Movements | Famous Artists | Articles