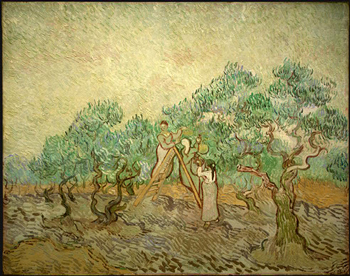 | | |
| --- | --- |
| Artist: | Vincent Van Gogh |
| Created: | 1889 |
| Dimensions (cm): | 92.1 x 73.0 |
| Format: | Oil on canvas |
| Location: | National Gallery of Art, Washington DC, USA |
Van Gogh painted this scene from the window of the room he inhabited in an insane asylum. At this point in his life, Van Gogh was focused on painting real places and objects; by fixating on reality, he was hoping to keep his mind strong and balanced. The trees outside his window provided a tangible subject for his art. The result is an intense yet calming work.
In Olive Orchard, Van Gogh works with soft contrasts in order to create a balanced feel in the work. The broad brush strokes are used to create large and exciting forms. The colors, however, are subdued and subtle; there is not a large range of brightness within the work. The tones of the tree trunks, the foliage and the earth are all connected through the blue of the sky and the greens and grays used to bring out the trees in the shadows. Partly because of the lack of extreme contrast in color, the work projects a sense of calm and near-dreaminess which differs from much of Van Gogh's restless and strongly emotional work. Van Gogh's signature 'Vincent' can be found on a curve in the hollow of the ground.

The trees and sky of Olive Orchard all move with the same irregular wave. Unlike Van Gogh's stormier works, this painting promotes a relaxed and mellow feeling. Despite the sense of calm which pervades the work, the power and intensity of feeling characteristic of Van Gogh's painting underlies the work and contributes to its strength.
Home | Art Prints | Art Movements | Famous Artists | Articles