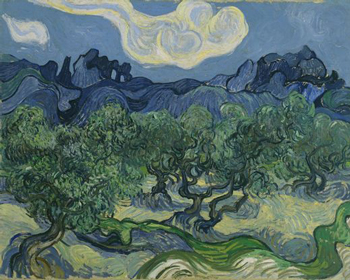 | | |
| --- | --- |
| Artist: | Vincent Van Gogh |
| Created: | 1889 |
| Dimensions (cm): | 91.4 x 72.6 |
| Format: | Oil on canvas |
| Location: | Museum of Modern Art, New York, USA |
The Olive Trees conveys both passion and power. It is a tumultuous painting in which Van Gogh's energy and fiery temperament can be clearly felt.
While there is a common movement in this work, each object is carefully portrayed and retains its own individuality and particular style. The painting is not chaotic; although each horizontal zone maintains a unique character, an overall balance is established in the work. The clouds and mountain are forms of great power which help convey the energy of the work.
The coloring of the piece is ordered in its variation. In the sky, light clouds hang against a cold greenish blue. Below the sky, warmer tones of light green are used in the trees which rest against the dark blue of the mountains. In the lower half of the painting, the shadows and movement of the sea are presented through yellows, blues and greens.
The movement of the piece can overpower the viewer, but the subtle contrasts throughout the work help to create balance. The soft clouds work in contrast to the hard rocks, the solid color of the sky opposes the changing colors below, and the storminess of the trees is offset by the clear mountain range. Overall, these imaginative contrasts contribute to the power of the piece.
Van Gogh's The Olive Trees is an emotionally charged view of a natural scene. The artist's extreme force of feeling pervades the work and creates an overall radiance.
Home | Art Prints | Art Movements | Famous Artists | Articles