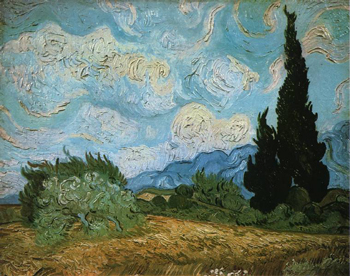 | | |
| --- | --- |
| Artist: | Vincent Van Gogh |
| Created: | 1889 |
| Dimensions (cm): | 65.0 x 51.5 |
| Format: | Oil on canvas |
| Location: | Private collection |
Van Gogh had an impressionist passion for landscape which is evident in his wheat field series. Although Wheat Field with Cypresses is a highly turbulent work, it is classic and traditional in its conception.
Wheat Field with Cypresses is well-proportioned and balanced; it plays with opposition. The trees which rise into the sky contrast effectively with the horizon. The brightness of both the sky and the earth is achieved through Van Gogh's use of color and through his playing with light and shadow. Stormy emotions can be seen in the sky; its shapes move beyond natural representations to become more strange and otherwordly. The blue and greenish tones of the sky are mirrored in the earth, creating a link between the two. Like the sky, the earth also projects a wild energy, but its forms are truer representations of the natural world.
The duality between the sky and the earth is important to the piece. The sky evokes the fantastic while the earth is hard and firm, although equally intense. The Cypress trees connect the two and create a union in the painting.
Van Gogh's love of nature and his intense emotions are equally felt within this work. With its contorted forms, Wheat Field with Cypresses conjures up the feeling of a supernatural battle which mirrors the complex emotional conflicts of the artist. The painting is provocative and moving.
Home | Art Prints | Art Movements | Famous Artists | Articles