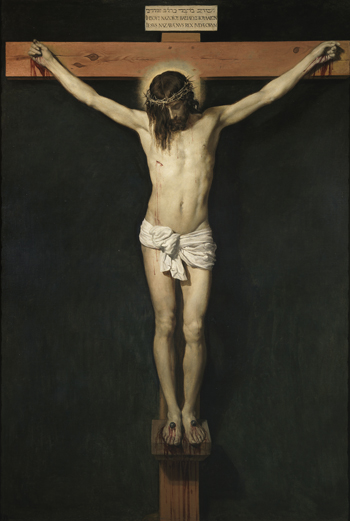 | | |
| --- | --- |
| Artist: | Diego Velazquez |
| Created: | 1632 |
| Dimensions (cm): | 169.0 x 248.0 |
| Format: | Oil on canvas |
| Location: | Museo del Prado, Madrid, Spain |
Christ on the Cross
While there has been some debate over the actual date of Diego Velázquez's painting, 'Christ on the Cross', most art analysts agree that it was created sometime between 1631 and 1632, upon his return from a stay in Italy.
Velázquez was most likely inspired by his teacher, Francisco Pacheco, who also created an earlier, similar version of 'Christ on the Cross' in 1614. Velázquez's painting however, offers a somewhat more powerful rendition of the death of Christ, most likely due to his intense color contrast technique.
In keeping with the same iconography as Pacheco, Diego painted the figure showing four nails, with the feet kept together and resting upon a small wooden platform, which forms the classic contrapposto posture. Christ's arms bear a slight curve, contrary to the traditional and more apparent triangular shape in other art works. As his head hangs to his chest, his long hair covers the majority of his face; many believe this feature to be symbolic of death's impending shroud.
While not nearly as sensationally dramatic as the classical baroque paintings, perhaps the most emotional aspect of the scene is brought about by Diego's use of the chiaroscuro technique, the method of producing a striking contrast between light and dark. Consequently, an aura of solitude and stillness emerges due to Christ's brightly illuminated body against the black, void background.
About the Artist
Born Diego Rodriguez de Silva y Velázquez in 1599, this artist studied painting at a very early age. In 1611, at only twelve years old, he enrolled in a five or six year apprenticeship with painter Francisco Pacheco. While Pacheco was not a famed artist, Velázquez learned much from him, most particularly his techniques and perspectives.
By 1620, Velázquez had established himself in a reputable position in Seville, Spain. After marrying the daughter of his teacher, who bore his only two children (the younger of which died in infancy), Diego became very active in producing paintings.
In 1624, the artist moved to Madrid, after having painted King Philip V's portrait in a single day. Extremely pleased, the king offered him the position of court painter soon after his favored painter died.
In 1629, he moved to Italy for approximately a year and a half. The trip, sponsored by Philip V, was to become a vital period in the development of his artistic techniques. It was here that he became exceptionally skilful in portraying the nude body, learning methods that he would utilize in future paintings, such as 'Christ on the Cross'.
'Christ on the Cross' is currently located at the Museo del Prado in Madrid, Spain.

Home | Art Prints | Art Movements | Famous Artists | Articles