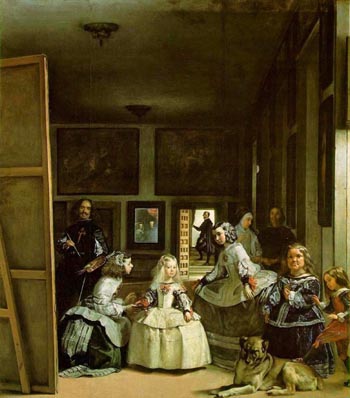 | | |
| --- | --- |
| Artist: | Diego Velazquez |
| Created: | 1656 |
| Dimensions (cm): | 318.0 x 276.0 |
| Format: | Oil on canvas |
| Location: | Museo del Prado, Madrid, Spain |
Las Meninas
Spanish painter Diego Velazquez painted 'Las Meninas' in Madrid, in the year 1656. Due to the painting's complex style, it has become one of the most analyzed artworks of its era.
From a distance, Las Meninas can be mistaken for a candid snapshot of a group of people interacting. However, upon closer inspection, viewers realize that the figures are indeed painted, albeit, in an uncanny, realistic manner.
Las Meninas is a remarkable painting that depicts a busy scenario set in medieval Madrid, involving the affluent family of Philip IV. It presents several prominent figures: a few chambermaids conversing with one another, an older woman and a small child standing next to her, a dog resting on the stones, and two men in the background who seem to be posing.
Many tableaus can be detected in the painting's background, but most of their details are too faint to ascertain, with the exception of one painting of a man painting himself.
Interesting Historical Facts
Las Meninas has been cut down on both the left and right sides. It was damaged in the fire that completely destroyed the Alcázar in 1734, and was eventually restored by court painter Juan García de Miranda (1677–1749). Due to significant loss of color, the infant's left cheek was almost completely repainted.
After its rescue from the fire, it became part of the royal collection in 1747–48, at which time the infant was misidentified, an error that was repeated when the painting was inventoried at the new Madrid Royal Palace in 1772.
Accolades
The Baroque painter Luca Giordano said that Las Meninas represents the "theology of painting", while in the 19th century Sir Thomas Lawrence called the work "the philosophy of art". More recently, it has been described as "Velázquez's supreme achievement, a highly self-conscious, calculated demonstration of what painting could achieve, and perhaps the most searching comment ever made on the possibilities of the easel painting."
The painting entered the collection of the Museo del Prado in Madrid, Spain, upon its opening in 1819. In 1843, the Prado catalogue listed the work for the first time as Las Meninas.

Home | Art Prints | Art Movements | Famous Artists | Articles