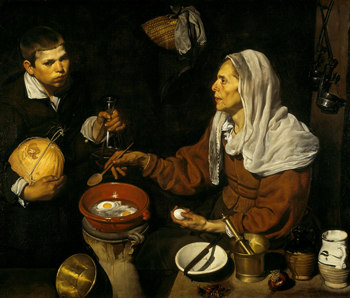 | | |
| --- | --- |
| Artist: | Diego Velazquez |
| Created: | 1618 |
| Dimensions (cm): | 100.5 x 119.5 |
| Format: | Oil |
| Location: | National Gallery of Scotland, Edinburgh, Scotland |
Old Woman Frying Eggs
At the young age of nineteen, Diego Velázquez painted 'Old Woman Frying Eggs', a piece that masterfully displays his outstanding talent. Near the start of his career, Velázquez created many paintings of kitchen or tavern scenes, which are called "bodegónes" in Spanish. He was fond of depicting the people and the objects around him in his day to day life.
Diego Velázquez's play on light is remarkable; he utilizes a technique referred to in Italian as "chiaroscuro", which translates to "light-dark." The effect is exceptional in 'Old Woman Frying Eggs'. The illumination of the old woman's face, her white veil, the young boy's face, as well as the melon he is carrying, produces an intense contrast against the dark, almost void, background. However, the most notable aspect of the painting comes from the bright white of the eggs in the poaching pan, which cause a slight reflective glow against the interior of the pan.
About the Artist
He was born Diego Rodriguez de Silva y Velázquez in 1599. After studying painting under Francisco de Herrera for one year, he embarked on a five or six year apprenticeship with painter Francisco Pacheco at the young age of twelve years old. While Pacheco was not a famed artist, Velázquez learned much from him, particularly in the practice of various techniques and perspectives.
By 1620, Velázquez was well-established in a reputable position in Seville. After marrying the daughter of his teacher, who bore his only two children (the younger of the two died in infancy), Velázquez became very active in producing artwork. It was during this time that some of his most notable pieces, such as 'Old Woman Frying Eggs' were created.
In 1624, Diego moved to Madrid after painting King Philip V's portrait in a single day. The king was so pleased that he offered him the position of court painter, with a promise to never allow another artist other than Velázquez to paint his portrait again. The king paid for all moving expenses for the artist and his family, and Madrid is where Diego Velázquez remained for the rest of his life.
'Old Woman Frying Eggs' is currently located in Edinburgh, at the National Gallery of Scotland.

Home | Art Prints | Art Movements | Famous Artists | Articles