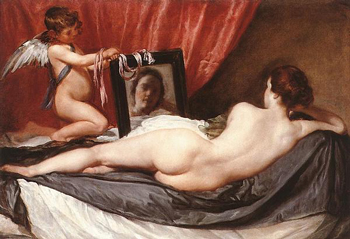 | | |
| --- | --- |
| Artist: | Diego Velazquez |
| Created: | 1647-51 |
| Dimensions (cm): | 177.0 x 122.5 |
| Format: | Oil on canvas |
| Location: | National Gallery, London, England |
Venus at Her Mirror (The Rokeby Venus)
Between the years 1647 and 1651, artist Diego Velázquez created 'Venus at Her Mirror (The Rokeby Venus)', an oil painting that depicts the Goddess of Love staring into a mirror held by her son Cupid, God of both romantic and erotic love, as well as beauty. Although her gaze into the mirror is one of self-admiration, it is also eerily directed at the viewer, a possible indication that Velázquez intended this painting to signify reflection.
The painting's beautiful model has a small waist and protruding hips, a very non-traditional shape when compared to the more common, full figured Italian nudes. She also dons a modern hairstyle; in fact, the only thing that transforms this model into a Goddess is the presence of the plump, young, winged child. Diego Velazquez used hues of white, pink, grey, black and red to create a subtle illumination across her body. The darkness of the satin sheets on the bed provides a stunning contrast with her skin, making it look lustrous. The mirror frame strewn with pink ribbons adds a delicate touch of femininity to the scene. While Van Gogh's brushstrokes provide a texture of softness to the sheets, they give the curtains a feeling of crispness. 'Venus at Her Mirror (The Rokeby Venus)' is the only surviving female nude painting by Diego Velázquez.
History
'Venus at Her Mirror (The Rokeby Venus)' was first recorded in June of 1651 within the collection of the Marques del Carpio, son of the first minister of Spain. It was most likely displayed privately to avoid being confiscated by the Spanish Inquisition. The painting's alias, The Rokeby Venus, was given when it became a part of the Moritt Collection at Rokeby Hall in Yorkshire.
On March 10, 1914, Mary "Slasher" Richardson, feminist, terrorist and suffragette, vandalized the painting with a cleaver. She caused severe damage to the buttocks of Venus; fortunately, the National Gallery's Chief restorer, Helmut Ruhemann, was able to expertly repair the damage.
In 1905, 'Venus at Her Mirror (The Rokeby Venus)' was purchased by the National Gallery in London, England in order to save it from being sent to Berlin.
Home | Art Prints | Art Movements | Famous Artists | Articles