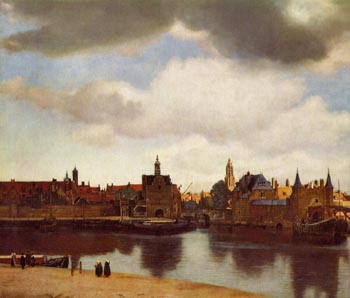 | | |
| --- | --- |
| Artist: | Jan Vermeer |
| Created: | 1660-61 |
| Dimensions (cm): | 115.7 x 96.5 |
| Format: | Oil on canvas |
| Location: | Mauritshuis Museum, The Hague, Netherlands |
The View of Delft
Between 1659 and 1660, Dutch artist Johannes Vermeer painted 'The View of Delft' , which ended up being his last piece. It was a time when topographical cityscapes had become popular amongst artists. 'The View of Delft' is a composition rich in colourcolor, infused with light, and meticulously detailed, a photorealistic painting of Vermeer's beloved hometown.
Especially outstanding is the vastness of the sky, littered with billowing clouds, some lit with sunlight, others ominously dark and indicative of an imminent storm or of one that has just passed over the city. It is also difficult to determine whether it is dawn or dusk.
Interesting Facts
To properly capture the cityscape and transpose it onto canvas, Vermeer installed himself on the first floor of a house situated south of the river Schie. He worked on the spot, using a seventeenth-century optical instrument pointed toward the city, a 'reversed telescope' that could encapsulate the entire panoramic image, and provide him with the possibility to create unique visual effects.
To give 'The View of Delft' a physical aspect, Vermeer mixed sand with his paint and delivered a gritty texture to the roofs and stone facades of the buildings. He also applied a thick yellow paste to some areas on the tall tower in order to emphasize the sunlit spots.
Analysis and Reviews
With regard to a particular exhibition, curator Arthur Wheeler remarked that "the show would not have been held had View of Delft not been made available" - so awesome and captivating was Vermeer's work of art.
In WebMuseum, Paris, Mark Harden said, "Vermeer achieved a sense of monumentality by subtle textural, lighting and compositional techniques. He moved beyond descriptive realism to create a mood that conveys the history and character of his city."
'The View of Delft' is located in the Royal Cabinet of Paintings, Mauritshuis Museum, The Hague, Netherlands.
Home | Art Prints | Art Movements | Famous Artists | Articles