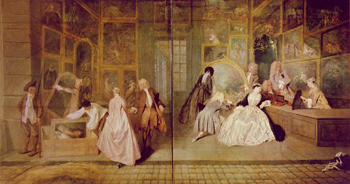 | | |
| --- | --- |
| Artist: | Jean-Antoine Watteau |
| Created: | 1720 |
| Dimensions (cm): | 308.0 x 163.0 |
| Format: | Oil on canvas |
| Location: | Charlottenburg Palace, Berlin, Germany |
Gersaint's Shop Sign (L'enseigne de Gersaint)
Artist Jean-Antoine Watteau created 'Gersaint's Shop Sign, or as it is known in its original French language 'L'Enseigne De Gersaint', in 1720, the year before his death. It was to be his final painting. This oil on canvas creation represents a captured moment of joy and celebration as the figures discover new treasures to bring home. A man offers his hand to a woman to welcome her into the shop, while the clerks happily ring up the sales. Jean Antoine Watteau's skilful brushstrokes clearly define the delicate white lace and silk materials of the dresses, as well as the textured linens worn by the man pulling out the portrait of Louis XIV.
There are no main figures in this painting, as all of the many subjects are spread out within the shop. However, the viewer's attention is lured to the right side of the canvas where the only man dressed entirely in black stands and studies a large circular mirror. Beside him, another man on bended knee examines it as well while it is being held by a serving girl. The mirror reflects the image of a woman customer who seems to gaze at it with a slight sense of forlorn. While there is no set tale associated with this painting, it does suggest that the customers are searching for something other than art works within the shop.
Review
As Kenneth Clark stated in "Looking at Pictures" with regards to the various hues found in 'Gersaint's Shop Sign': "My first impression of the Enseigne is of an interplay of tone and colour so breathtakingly beautiful in its own mysterious domain that to attempt an analysis would be foolish and indelicate. But as I sit enraptured by these areas of shimmering light and shadow I fancy that I can understand some of the principles on which it is constructed. To my astonishment I find myself thinking of Piero della Francesca's fresco of the Queen of Sheba. There is the same silvery colour, the same processional dance of warm and cool tones, even some of the same detachment."
'Gersaint's Shop Sign' by Jean-Antoine Watteau is currently located at the Charlottenburg Palace in Berlin, Germany.
Home | Art Prints | Art Movements | Famous Artists | Articles