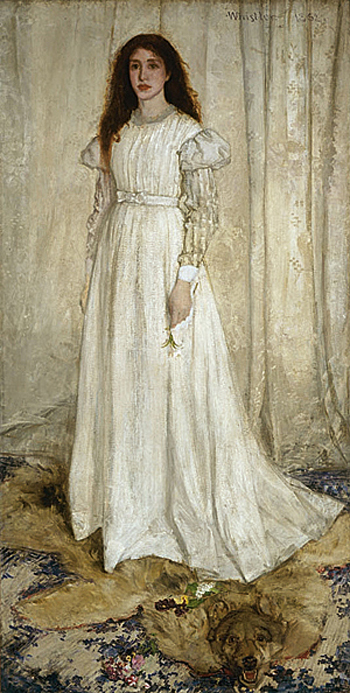 | | |
| --- | --- |
| Artist: | James Abbott McNeill Whistler |
| Created: | 1862 |
| Dimensions (cm): | 108.0 x 214.6 |
| Format: | Oil on canvas |
| Location: | National Museum Art, Washington D.C., U.S.A |
Symphony in White, No. 1: The White Girl
In 1862, renowned artist James Abbott McNeill Whistler painted 'Symphony in White, No. 1: The White Girl', an oil on canvas portrait of a woman dressed entirely in white against a backdrop of heavy white drapes. Whistler made use of various tones of white to suggest pureness or virginity, but the bear skin rug under her feet produces a slightly darker emotion.
The model, Whistler's mistress Joanna Heffernan, becomes rather faded in the scene except for her bold red hair which makes a striking contrast against the whites. In her hands, she holds a broken bouquet of lilies which, at the time, was interpreted by many critics as a symbol of lost innocence. This debate eventually led to the refusal of the painting's submission to the Paris Salon in 1863. Nevertheless, Napoleon III invited Whistler to show 'Symphony in White, No. 1: The White Girl' at the Salon des Refusés, an exhibition meant to serve avant-garde artists who were denied "official space" to show their works; it sparked much controversy among many critics and galleries.
Analysis
"Whistler used variations of white pigment to create interesting spatial and formal relationships. By limiting his palette, minimizing tonal contrast, and sharply skewing the perspective in a manner reminiscent of Oriental art, he flattened forms and emphasized their abstract patterns. This dramatic compositional approach reflects the influence of Japanese prints, which were becoming well-known in Paris as international trade increased. Clearly, Whistler was far more interested in creating an abstract design than in capturing an exact likeness of the model, his mistress Joanna Heffernan. His radical espousal of a purely aesthetic orientation and the creation of "art for art's sake" became a virtual rallying cry of modernism." - National Gallery of Art Brief Guide
'Symphony in White, No. 1: The White Girl' by James Abbott McNeill Whistler is currently located at the National Gallery of Art, Washington DC, U.S.A.
Home | Art Prints | Art Movements | Famous Artists | Articles