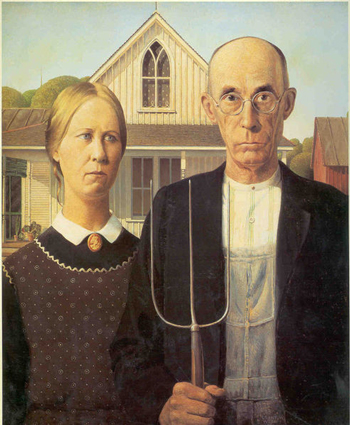 | | |
| --- | --- |
| Artist: | Grant Wood |
| Created: | 1930 |
| Dimensions (cm): | 65.3 x 78.0 |
| Format: | Oil on beaverboard |
| Location: | Art Institute of Chicago, USA |
American Gothic
Grant Wood's American Gothic caused a stir in 1930 when it was exhibited for the first time at the Art Institute of Chicago and was awarded the prize of 300 dollars. This propelled the artist's career from local to national recognition.

The Iowa native was enchanted by a cottage he had seen in the small town of Eldon. He was inspired by the contrast of the modest little one-and-one-half story frame house with its (as he described it) "pretentious" gothic style windows. It resembled a medieval pointed arch and there was one on each end. This inspired the title American Gothic.

The models for his painting were Wood's sister Nan Wood Graham and their family dentist Dr. B.H. McKeeby. They posed as the sour faced farmer and his spinster daughter. Wood's subjects received widespread debate and critical attention. Was the pair a farmer husband and wife? or father and daughter? Many Iowa farmer's wives objected to what they mistook as a negative portrayal. Later Wood revealed who the subjects were and their ages (30-Nan and 62- Dentist).

The highly detailed style and rigid positioning of the figures were inspired by northern renaissance art. In the backdrop lies the gothic-style cottage and in front the farmer holds his pitchfork and beside him, his spinster daughter. Both have dour expressions. The daughter has a stray curl at the nape of her neck, a sign, that she is not as repressed as her buttoned-up exterior might be.

American Gothic remains one of the most famous paintings in the history of American art. It is a primary example of regionalism, depicting rural American subjects in a representational style. Some believe that the painting is a celebration of American values; others see it as a satiric critique of Midwestern rural life.
Home | Art Prints | Art Movements | Famous Artists | Articles