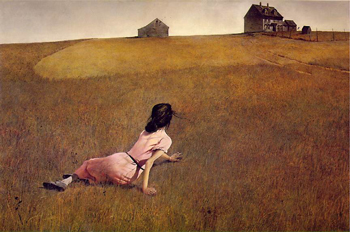 | | |
| --- | --- |
| Artist: | Andrew Wyeth |
| Created: | 1948 |
| Dimensions (cm): | 121.3 x 81.9 |
| Format: | Tempera on board |
| Location: | The Museum of Modern Art, New York, USA |
Christina's World
Wyeth's image of a woman sprawled on a brown field, staring at a house and barn in the distance, has become an icon of Americana. Its stark rusticness evokes the rural life of a bygone era; its simple construction and sharp contrasts give power to the scene of bucolic destitution. Wyeth, however, was not motivated by such concerns. He painted the piece out of anger, anger at his life, which, now that he was married, resembled the dull, settled life of his father more and more.
Elements of the painting
The most important element of the painting is of course the woman, Christina. Her model was the real-life Christina, Christina Olsen, who lived near the Wyeths with her brother. Though she is the most interesting element of the painting, she was actually added last, and the color of her dress was almost an afterthought on Wyeth's part. Again, it is curious that this touch came so late, as the pink-and-brown contrast is one of the most striking elements of the painting's construction.

Said construction remains uniformly simple throughout. The field forms a mass of brown which collides with the pale-blue sky near the top of the frame. Against this backdrop, there are placed essentially only three objects: Christina, the barn, and the house and surrounding structures. These objects are also the only elements of the painting with any degree of detail: the field and the sky, though they take up so much of the piece, are basically just masses of color. This achieves the effect of the painting having both an intimate quality of closeness, thanks to the richly detailed objects, and simultaneously a feeling of overwhelming vastness, due to the relative amount of monotonous brown grass.

Christina's World was Andrew Wyeth's breakthrough work, propelling him to fame. It remains his best-remembered work as well.
Home | Art Prints | Art Movements | Famous Artists | Articles